Matter at Wellmore: Meaghan Walker Finds Her Heart for Wellness in Tega Cay
Our community is home to incredible team members who come in each day to serve our Members. To be passionate about your career should be a requirement when you're thinking about making a job change. At Senior Living Communities, establishing that passion within our team members is a priority. We accomplish this by supporting them in their personal and professional lives. Our programs such as DailyPay, No Delay Payday, Elevate, Flexible PTO, and more allow us to do that and more.
Find out how Meaghan Walker, our Wellness Director at Wellmore of Tega Cay uses her skill set and passion for helping our Members fuel her each day in her position.
What is your position at Wellmore of Tega Cay?
Wellness Director
How long have you been at Wellmore of Tega Cay?
I have been at Wellmore of Tega Cay for 2 years.
How did you find this position? FB, LinkedIn, Word of Mouth?
I was initially hired as a Wellness Associate and I heard about the position through my friend, Holly Lindler who at the time was a Life Enrichment Leader.
What kept you motivated during job searches?
I wanted more, some may say I settled with my initial job out of college, but I think that's where I needed to be at that time. That job taught me a lot about myself and I knew I wouldn't be there forever. When Holly told me about the position opening at Wellmore I wasn't necessarily looking for a job, but after my interview I knew I wanted it.
What excited you about this position and this company?
A variety of things excited me about the position and Senior Living Communities. One, I love seniors and exercise, so the Wellness Associate position was the perfect fit for me. We have a great benefits package which includes the flexible PTO and 401k programs, those really stuck out to me. Senior Living Communities does a great job in caring about their team members.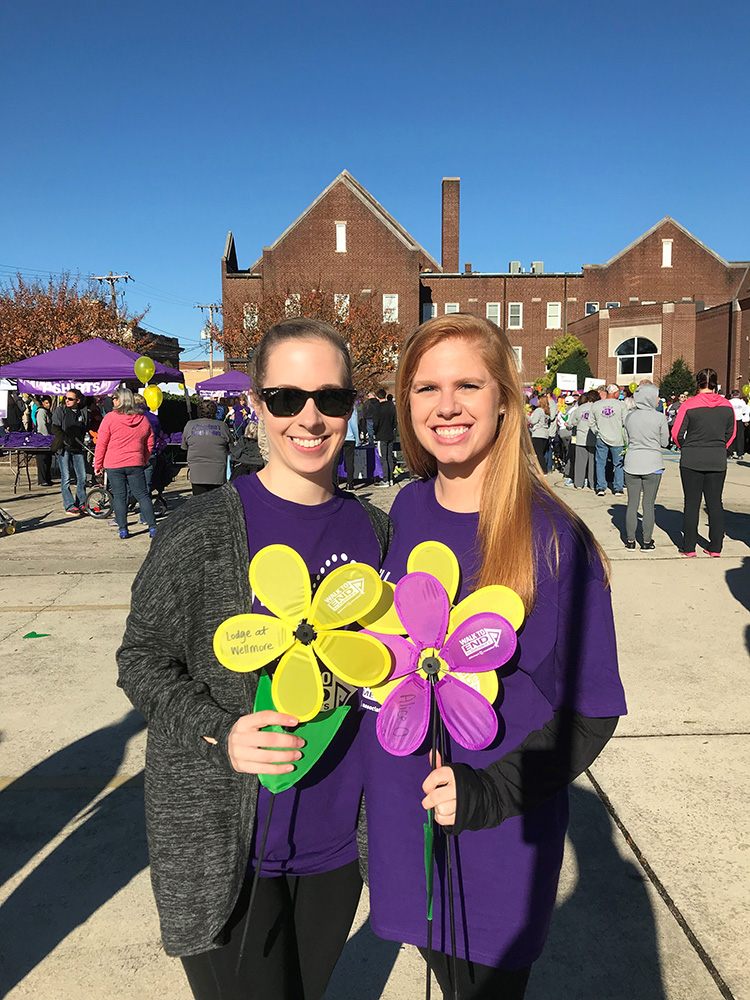 What is your favorite thing about working for SLC?
That's a hard one, I would say the people within Senior Living Communities, Wellmore of Tega Cay, and the Members. Our leadership team is one of the best I have ever worked with. We're all in this together and they don't want to see anyone fail. Senior Living Communities wants to see us grow and one of the biggest take-aways I have gotten in my time here is to challenge myself and learn all I can. Senior Living Communities is here to make you the best person you can be whether you stay with the company or not.
What is the best program that you've experienced at Wellmore of Tega Cay?
My favorite program would have to be our Carnival Day. We started out the day with a dunking booth and a pie-in-the face station. In the afternoon, we had a miniature pony visit and enjoyed carnival food as well as games! It was just so much fun and all the money we raised went to the Walk to End Alzheimer's.
Describe a time that a Member had a positive impact on your day?
Every. Single. Day. I laugh constantly at work. Our Members truly become our family. Often our jobs can be busy, and we have a lot going on, but I cherish those moments when I get to just sit down with a Member and talk with them. They have lived in completely different times than us and have spent their lives doing amazing things. I try to soak up as much knowledge from them as I can. One day I was sitting with a Member after an activity and as I got up, she said, "you don't know how much it means to us when you just stop to talk." Our Members will thrive in a community where they feel loved, cared for, and heard every day.
How have you grown professionally and personally since joining the Team?
When I first joined the team, I started out as a Wellness Associate and after a year I was promoted to Wellness Director. I couldn't believe how fast it all happened, but I knew it was where I needed and wanted to be. I have learned so much about leading a team, working with others, and how to be a better leader. There are a variety of opportunities to grow with this company and they truly have your best interest at heart.
Our guiding principle "People First. Always". How have you seen this in practice at your community?
We exist to serve our Members and we have a responsibility to be full. The only way we can make that happen is by putting our Members first. One big thing I have heard since working here is, "they may not remember your name, but they will remember how you made them feel". Our Members come first, and we want to do all we can to make sure Wellmore feels like home to them.
Do you feel like you matter/make a difference at Wellmore of Tega Cay?
Yes. Every day I come in I have a job to do. I love helping our Members and staff live healthier lives. I couldn't imagine myself anywhere else or doing anything else.