Memory Care for Alzheimer's and Dementia
At Reflections at Wellmore, our focus is on family engagement first because we believe our residents' quality of life improves when families are involved and want to visit often. Our mission is to create meaning and purpose for our residents, their families and for our team of frontline caregivers. Highlights of our program include:
Providing care in a luxury apartment home
Developing a curated social and dining lifestyle that encourages families to visit often
Offering an all-inclusive, transparent pricing model that's easy to understand and allows our families to plan long-term
Housing a continuum of services under one roof so future moves can be avoided
There's no doubt that caring for a loved one with dementia or Alzheimer's is a difficult journey. We want families to look forward to their visits, and every part of our day is designed so they can do just that. We encourage you to schedule an appointment at your convenience to learn more about everything Reflections has to offer.
National Team Member of the Alzheimer's Association
Wellmore is a proud member of the Alzheimer's Association National Team. Each year we hold multiple events including the annual Walk to End Alzheimer's, to raise money & awareness to combat this terrible disease. We are not only focused on providing the best care for those afflicted by Alzheimer's, but on ending this terrible disease. If you want to participate or donate to the Alzheimer's Association, click this link to their official website for more information.
Gallery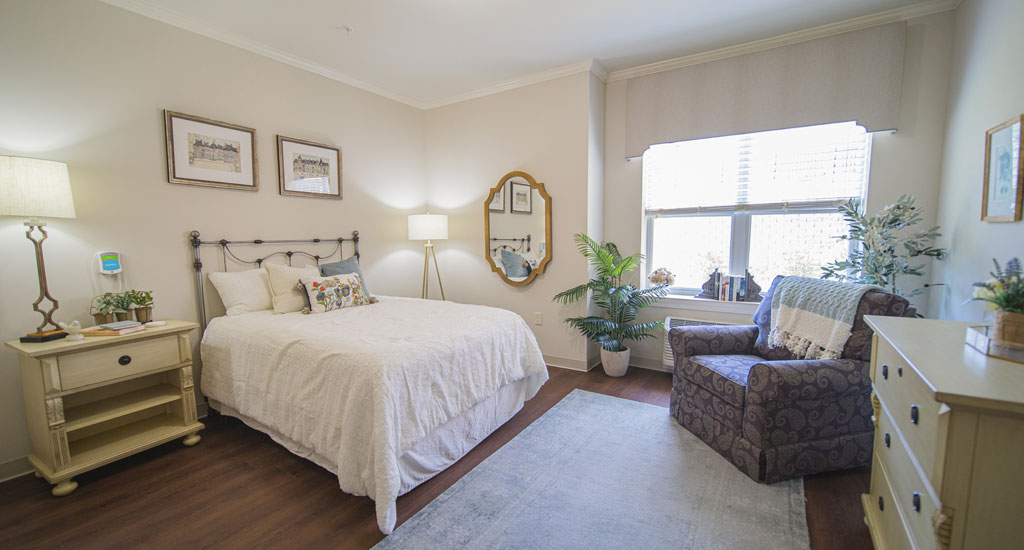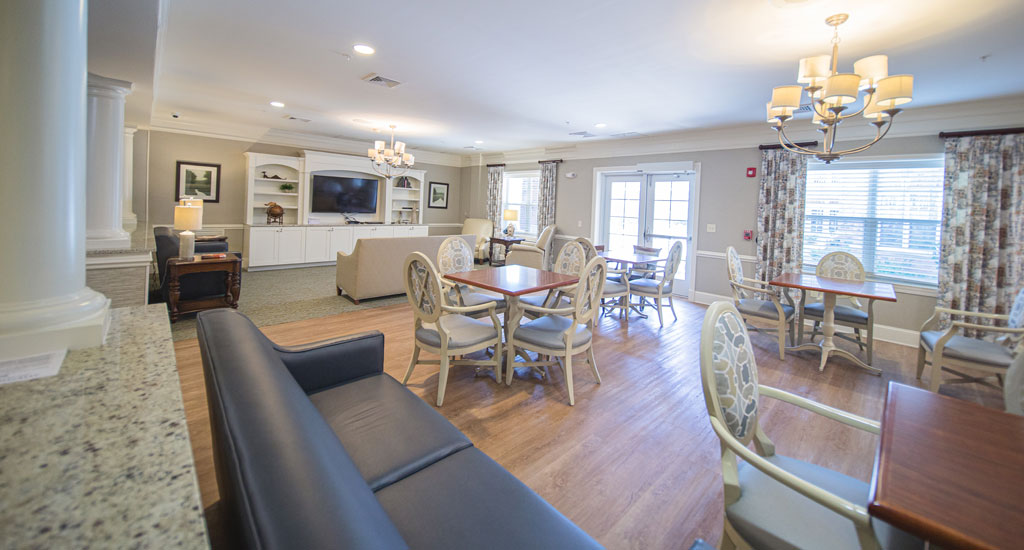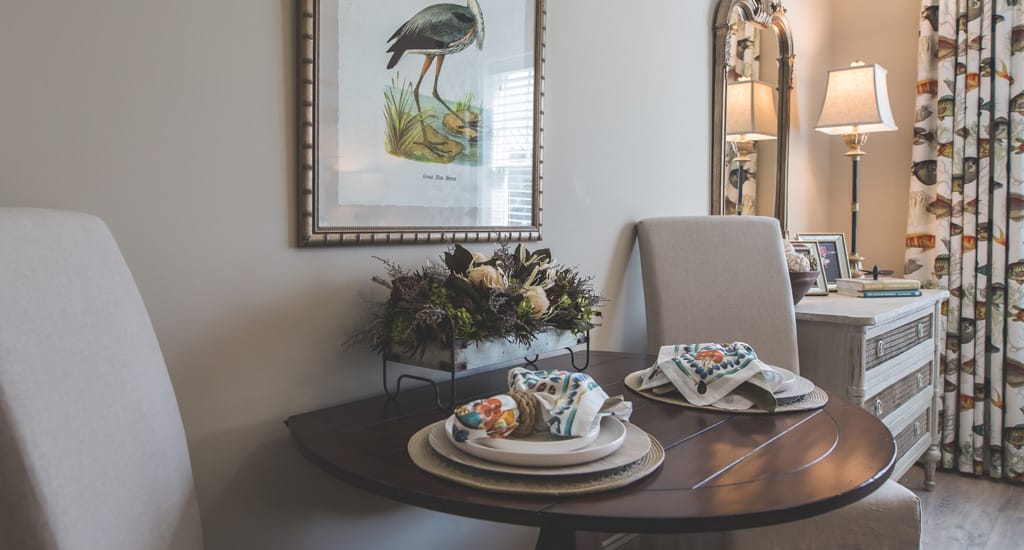 View Full Galleries: Charleston, Lexington, Tega Cay
All-Inclusive Monthly Pricing
We believe that you shouldn't have to worry about various "levels of care" or "points" charges, which are popular at many Memory Care communities. Under this type of pricing model, your rate could increase at any moment, without any notice, just because you receive more care. Reflections at Wellmore charges one all-inclusive monthly fee, which includes all of your care, no matter how much you need. That's because we want billing to be the least of your worries.
At our community, you pay one rate for all your care while in Memory Care.
View Floor Plans & Pricing for Each of Our 3 Locations:
Memory Care Services and Amenities
Reflections at Wellmore offers the following services and amenities:
Spacious studio apartments with granite counters, wood cabinets and tiled, private bathrooms
A secured courtyard for outdoor enjoyment
A choice of indoor common areas
Personalized care plans
Program activities overseen by licensed nurse with special training in dementia related conditions
24/7 Licensed Nursing
Medication management
Assistance with the activities of daily living
Housekeeping, laundry and linen service
Family-style meals daily approved by a registered dietitian and prepared by our Executive Chef
Concierge & Transportation services
Professional Salon & Spa
Basic utilities including Wi-Fi
Daily Social and Wellness activities
24-hour emergency call system
Care is personally guided by a Licensed Nurse, coordinating with the Member, Family and Personal Physicians
On-site Physical, Occupational and Speech & Language Rehab
Landscaped courtyards
Library
Study
Activity rooms
On-site rehabilitation services to include physical, occupational and speech therapy with indoor therapy pool
Online scheduling app for visits
At Wellmore, our goal is for Members to live Longer, Healthier, Happier Lives.
How Memory Care Works
Adult children spending quality time with a parent or loved one without worrying about meals, quality of care and safety is a blessing. For those affected by Alzheimer's and dementia, being around caregivers who understand their disease and can support their integrity is transformational.
As part of the Reflections Memory Care program, our nurturing caregivers engage Members in activities that stimulate the mind. We guide your loved one through exercises based around memory, reasoning and information processing—activities which have been shown to slow the progression of Alzheimer's and dementia and help keep the mind active. Our luxury Memory Care facilities are designed by experts in Alzheimer's and dementia to ease the stresses of daily life through a secure, easily maneuverable and brightly lit environment. Members of our Memory Care communities enjoy an active and engaging lifestyle that includes access to daily social activities, an award-winning wellness program and personalized fine-dining administered by an on-site dietician.
At Reflections at Wellmore, Memory Care is available to adults at all stages of Alzheimer's and dementia, and treatment is personalized to each individual. Since symptoms of wandering are common in dementia patients, particularly those in the late stages of the disease, our Memory Care facilities are kept secure to ensure Member safety. We also provide 24-hour monitoring by a professional staff who are specially trained in Alzheimer's and dementia care.
Our comprehensive social and wellness programs, choice of fine dining and personalized approach to Memory Care promote a sense of dignity and purpose for our Members. While we can't control life's challenges, Reflections at Wellmore can help Members live a higher quality of life while ensuring their future needs are met with grace and respect.

WAVES
WAVES received the Best of the Best Award from Argentum, the nation's largest senior living association, celebrating its outstanding achievements in Alzheimer's programming. WAVES is an aquatic-based experience, led in our heated indoor therapy pool, giving our members a safe and fun way to exercise.
The combination of warm, therapeutic water and low-impact aerobic activity can reduce anxiety and stress while providing a healthy outlet for excess energy.
Members who participate in the program may enjoy improved strength & balance, appetites, better sleeping patterns and a stronger bond with their caregivers.
We do things differently here, and we don't settle for ordinary outcomes.
We believe everyone can live a higher quality of life with wellness.
Three South Carolina Locations
Wellmore provides memory care services to all three of our South Carolina communities—located in Charleston, Lexington and Tega Cay. While each community is unique in its own way, they all offer the same level of high-quality care to Members with Alzheimer's and dementia.
Wellmore of Daniel Island provides dedicated Memory Care services for Members with Alzheimer's and dementia within our upscale senior living community. Memory Care residents come to us from all around Charleston and the surrounding areas.
Wellmore of Lexington offers quality Alzheimer's and dementia care within our high-end Continuing Care Retirement Community. For the best Memory Care facilities in the Lexington, SC area, look no further than Wellmore.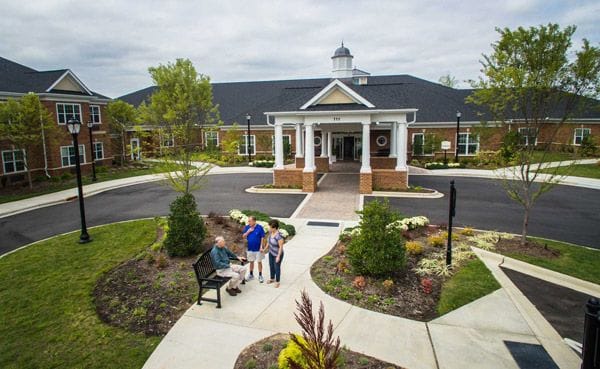 Memory care at Wellmore of Tega Cay offers the best in Alzheimer's and dementia care in the greater Charlotte, NC area. Schedule a tour of our Tega Cay location to get a full picture of why we are a step above the rest.
Contact Us