Industry-Best Assisted Living Communities
Assisted Living at Wellmore is designed for one purpose – to help our residents enjoy their families and friends and remain independent and happier as they age. We do this in a few specific ways by:
Providing care in a luxury apartment home
Developing a curated social and dining lifestyle that encourages families to visit often
Offering an all-inclusive, transparent pricing model that's easy to understand and allows our families to plan long-term
Housing a continuum of services under one roof so future moves can be avoided
Our goal is to provide support when needed and minimize the stress associated with caring for Mom or Dad. So when you or a friend visits, they can focus on what's important – having fun.
Gallery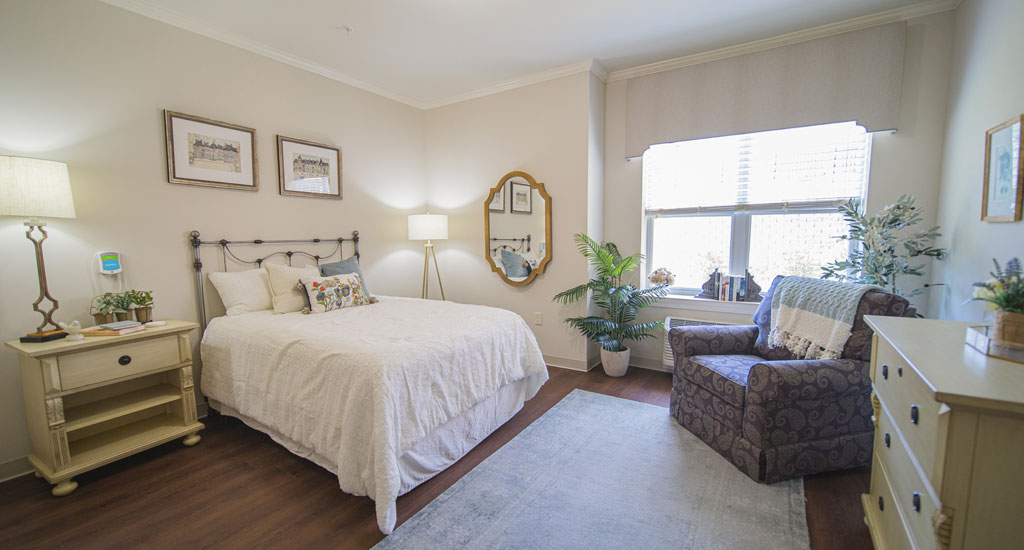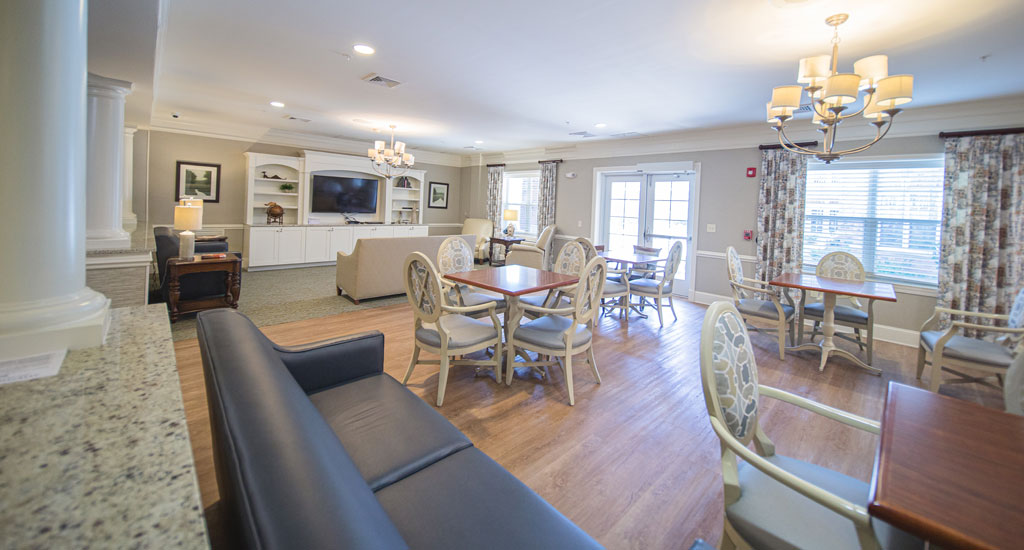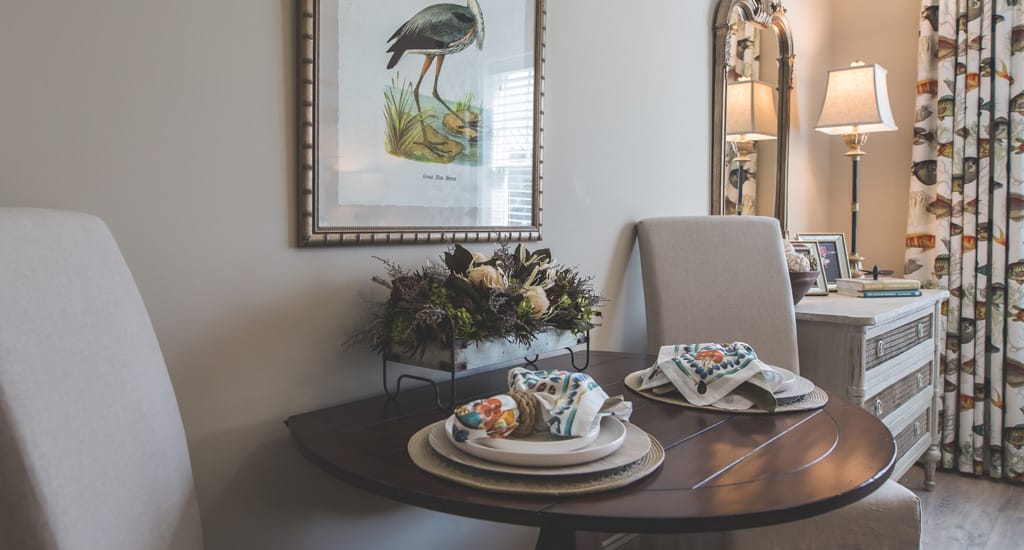 View Full Galleries: Charleston, Lexington, Tega Cay
All-Inclusive Monthly Pricing
We believe that you shouldn't have to worry about various "levels of care" or "points" charges, which are popular at many Assisted Living communities. Under this type of pricing model, your rate could increase at any moment, without any notice, just because you receive more care. Wellmore charges one all-inclusive monthly fee, which includes all of your care, no matter how much you need. That's because we want billing to be the least of your worries.
At our community, you pay one rate for all your care while in Assisted Living.
View Floor Plans & Pricing for Each of Our 3 Locations:
Assisted Living Services and Amenities
Wellmore offers the following Assisted Living services and amenities:
Spacious studio-suite, one and two bedroom apartments with granite counters, wood cabinets and tiled, private bathrooms
Pet-friendly living
24/7 Licensed Nursing
Medication management
Assistance with the activities of daily living
Housekeeping, laundry and linen service
Concierge & Transportation services
Restaurant-style meals daily in our Formal Dining Room or Bar & Bistro
Professional Salon & Spa
Basic utilities including Wi-Fi
Daily Social and Wellness activities
24-hour emergency call system
Care is personally guided by a Licensed Nurse, coordinating with the Member, Family and Personal Physicians
On-site Physical, Occupational and Speech & Language Rehab
Landscaped courtyards
Library
Study
Activity rooms
Online scheduling app for visits
In short, not only do we have multiple levels of care, we have multiple levels of fun! We are glad to be the top choice for Assisted Living in Charleston, Lexington and Tega Cay, South Carolina.
Why Assisted Living?
For seniors who want to maintain a level or independence but need help with certain daily activities, Assisted Living is an ideal situation. Our community staff offers assistance in all sorts of daily needs, such as bathing, dressing, eating, housekeeping and transportation. Assisted Living also includes access to amenities that are harder to obtain from home, such as group fitness classes, social activities and nutritious meals. Our three Wellmore locations provide an Assisted Living lifestyle that is stress-free, welcoming and engaging. Not sure if Assisted Living is the right fit? Don't hesitate to reach out to speak with a lifestyle advisor or take a tour of one of our communities.
Three South Carolina Locations
Wellmore offers Assisted Living at all three of our South Carolina communities, which are located in Charleston, Lexington and Tega Cay. Each community is unique in its own way, but they all offer the same level of luxury and dedication to unsurpassed Assisted Living care for our Members.
Wellmore of Daniel Island is an upscale Assisted Living community that provides industry best programming, dining and care to Charleston, SC and the surrounding areas. The Charleston landscape is peppered with new Assisted Living communities and operators, unfamiliar with the essentials needed in crafting an exceptional lifestyle. Wellmore of Daniel Island stands apart from the rest.
Wellmore of Lexington is an upscale Assisted Living community that offers a full Continuum of Care under one roof, which means you will never have to go through a move again. Serving Lexington, SC and surrounding areas.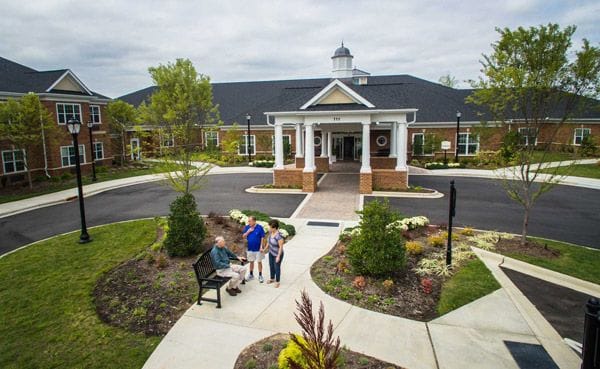 Wellmore of Tega Cay is a luxury Assisted Living community that provides a full arrray of Care Services. With all the options available in the Charlotte area, finding the right Assisted Living community to meet your needs can time consuming and intimidating. Make the decision easy by visiting Wellmore of Tega Cay.
Contact Us