Luxury Assisted Living, Memory Care & Skilled Nursing in Charleston, SC
Wellmore of Daniel Island
Adjacent to the Daniel Island Club, nestled amongst the trees and overlooking Beresford Creek, Wellmore of Daniel Island is the premier retirement community in Charleston's vibrant island town. Members enjoy luxurious accommodations, restaurant-style fine dining, a national award-winning wellness program, and person-centered attention from a team of experienced caregivers.
Our Charleston Assisted Living community employs a hybrid Care Services and wellness model based on nationally recognized initiatives that improve and extend the lives of seniors. Our Care Service programs include Assisted Living, Memory Care, Skilled Nursing and Short-Term Rehab. Our community serves Members from all over the greater Charleston area, including Mt. Pleasant, North Charleston, Summerville, Isle of Palms, and more.
We encourage you to take a look through our website and learn about the Wellmore lifestyle. Don't hesitate to reach out if you have any questions!
Gallery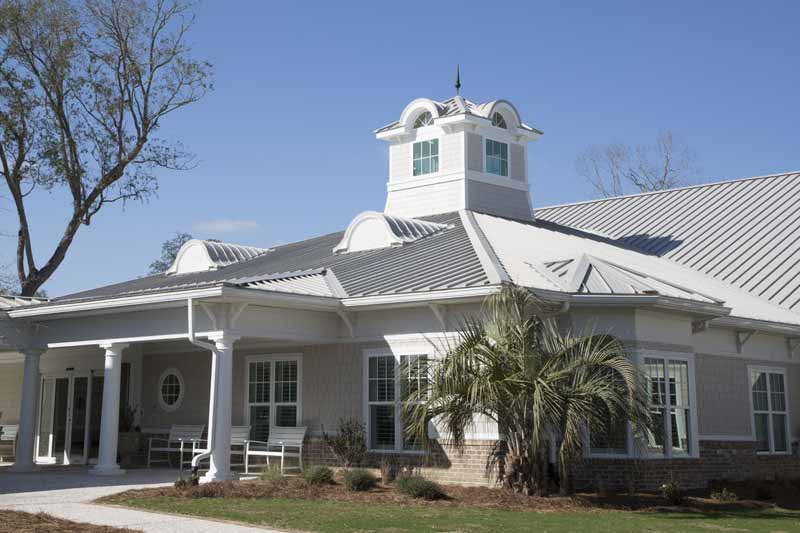 View Photo Gallery
Care Services
Enjoying your Independence shouldn't be a struggle, and that's why our Members enjoy care-free days, knowing that the light support they need, is there. Our Independent Living +lifestyle is a wonderful option in helping you maintain your independence. Alleviate the worries of daily chores and upkeep while pursuing your personal health and happiness.
Members of our Assisted Living program enjoy a strong sense of independence and a vibrant community lifestyle. Members take comfort in seeing the same caregivers each day and night, which helps them to develop strong relationships with a team that truly understands their needs. Our caregivers use a person-centered approach that provides Members with care that makes sense for them. No one-size-fits-all approach.
Our Reflections Memory Care program employs a person-centered approach with daily mental stimulation activities and a supportive community environment. Our caregivers are all Certified Dementia Practitioners, which means they have a deep understanding of the challenges that come with Alzheimer's and dementia, both for Members and their loved ones. In Reflections, our goal is to help Members maintain a sense of dignity and purpose in a stress-free environment.
Our Skilled Nursing program is ideal for Members who need around-the-clock medical care within a community environment. Our team of top-tier medical professionals provides more than just quality health care—they offer a dedication to individualized support so that each and every Member's needs are met. Our Skilled Nursing care is designed to maximize the quality of life of our Members, which means their families can rest assured their loved one is in good hands.
Our partnership with Broad River Rehab Services makes us one of the top Short-Term Rehab providers for seniors nationally. Rehab at Wellmore offers phenomenal outcomes in physical therapy, occupational therapy and speech therapy. Whether recovering from surgery or rehabilitating due to a medical issue, our team will work with each Member through a program based around their needs and goals.
All-Inclusive Monthly Pricing
We believe that you shouldn't have to worry about various "levels of care" or "points" charges, which are popular at many communities. Under this type of pricing model, your rate could increase at any moment, without any notice, just because you receive more care. Wellmore charges one all-inclusive monthly fee for Assisted Living and Memory Care, which includes all of your care, no matter how much you need. That's because we want billing to be the least of your worries.
At our community, you pay one rate for all your care while in Assisted Living and Memory Care.

Clubhouse Features

Fine Dining
Activity Room
Living Room
Study
Café/ Bar
Salon and Spa
On-site Rehab Services

Wellness Center

Our 3-time Assisted Living Federation of America Best of the Best Award-winning wellness program.
A heated indoor therapy pool featuring ramp enabling easy entry.
Stationary exercise equipment and weight room.
Classroom/aerobic space.
Location
Wellmore of Daniel Island is located at 580 Robert Daniel Dr, Charleston, SC 29492.
Wellmore of Daniel Island's convenient location between Mt. Pleasant and Charleston offers residents endless dining, shopping and activity options. From bird watching and strolling through manicured gardens at a nearby park to sipping on flavored coffee at a local café, activities in Mt. Pleasant and Daniel Island will keep you exploring. Popular attractions include the Magnolia Plantation & Gardens, Patriots Point Naval & Maritime Museum, 18 holes at Dunes West, Wild Dunes and Charleston National golf clubs, and the Isle of Palms state park.
Open in Google Maps
Directions from Mount Pleasant, SC:
From Mount Pleasant, navigate onto I-526 W. From I-526 W, take exit 24 and then turn left onto Island Park Dr toward the traffic circle. Take the 2nd exit on the traffic circle to stay on Island Park Dr and continue forward. When you reach the next traffic circle, take the 3rd exit onto Robert Daniel Dr and continue forward until you reach Wellmore of Daniel Island.
Directions from North Charleston, SC:
From North Charleston, navigate onto I-526 E. From I-526 E, take exit 24 and continue onto River Landing Dr. Continue on River Landing Dr for about half a mile and then take a left onto Island Park Dr. Continue down Island Park Dr for another half mile until you reach a traffic circle. Take the 2nd exit on the traffic circle to stay on Island Park Dr and continue forward. When you reach the next traffic circle, take the 3rd exit onto Robert Daniel Dr and continue forward until you reach Wellmore of Daniel Island.
Directions from Summerville, SC:
From Summerville, head east on I-26 and continue on until exit 212, where you will merge onto I-526 E toward Mount Pleasant. From here, take exit 24 and then follow the above directions from North Charleston.
Directions from Isle of Palms, SC:
From Isle of Palms, navigate to SC-517 N. Continue on SC-517 N until you reach Hungry Neck Blvd, where you will take a left. Continue for 1.4 miles until you reach a fork, where you will keep left and merge onto merge onto I-526 W. Continue for 5.4 miles and take exit 24. From here, follow the above directions from Mount Pleasant.