Luxury Assisted Living, Memory Care & Skilled Nursing in Tega Cay, SC
at Wellmore of Tega Cay
Located just minutes from Charlotte, North Carolina, Wellmore of Tega Cay offers a lifestyle that is second to none.
Our luxury senior care community is centered around the belief that anyone, at any age, in any condition can improve their quality of life. Members enjoy a national award-winning wellness program, a vibrant social community and unmatched resort-style amenities. Our community is designed to encourage a social, healthy, active and stress-free lifestyle.
We offer a full array of person-centered Care Services, which include Assisted Living, Memory Care, Skilled Nursing and Short-Term Rehab. Take a look through our website or schedule a tour and discover why Wellmore of Tega Cay is the premier choice for senior living.
All-Inclusive Monthly Pricing
We believe that you shouldn't have to worry about various "levels of care" or "points" charges, which are popular at many communities. Under this type of pricing model, your rate could increase at any moment, without any notice, just because you receive more care. Wellmore charges one all-inclusive monthly fee for Assisted Living and Memory Care, which includes all of your care, no matter how much you need. That's because we want billing to be the least of your worries.
At our community, you pay one rate for all your care while in Assisted Living and Memory Care.
Clubhouse Features
Fine Dining
Activity Room
Living Room
Study
Café/ Bar
Salon and Spa
On-site Rehab Services
Wellness Center
Our 3-time Assisted Living Federation of America Best of the Best Award-winning wellness program.
A heated indoor therapy pool featuring ramp enabling easy entry.
Stationary exercise equipment and weight room.
Classroom/aerobic space.
Gallery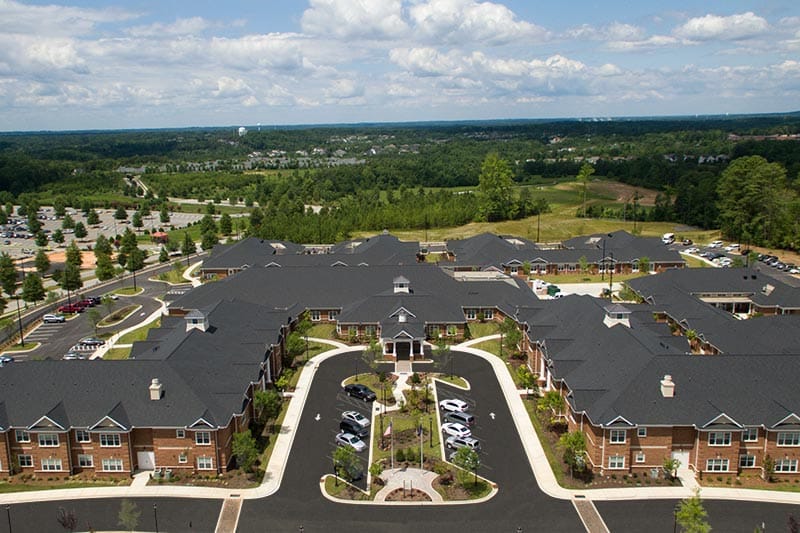 View Photo Gallery
Care Services
For those transitioning between full independence to independence with light support, Wellmore of Tega Cay offers a lifestyle perfectly suited for those excited to live a rich life, full of color and vibrancy. With services and amenities and on-site care if needed, this is truly care-free living.
Our Assisted Living program offers an independent lifestyle with the added benefit of assistance in daily activities.
Our community offers a top-of-the-line Memory Care program called Reflections, which help Members with Alzheimer's and dementia stay active and engaged in a stress-free environment.
Our Skilled Nursing services are designed for Members who need around-the-clock medical care in a community environment. Families take comfort knowing we have a team of top-tier medical professionals who are trained to respond to any situation.
Our Short-Term Rehab services are provided through our partnership with nationally-recognized Broad River Rehab Services. We offer extraordinary outcomes in physical therapy, occupational therapy and speech therapy.
Wellmore of Tega Cay is a 5-star rated community. Enjoy the peace of mind that you or your loved one is truly cared for, in a certified top-rated community, dedicated to their support and care.
Location
Wellmore of Tega Cay is located at 111 Wellmore Drive, Tega Cay, SC 29708.
Open in Google Maps
Directions from Charlotte, NC:
From Charlotte, head South on I-77. Take exit 88 in South Carolina and then turn right onto SC-460/Gold Hill Rd. Continue on Gold Hill Rd for 2.1 miles and then turn left onto SC-160 E. Drive another 0.9 miles and take a right onto Stonecrest Blvd. Take the first right onto Wellmore Dr and you will arrive at our community.
Directions from Rock Hill, SC:
From Rock Hill, head North on I-77. Take exit 85 and then turn left onto SC-160 W. Continue straight for 2.2 miles and then turn left onto Stonecrest Blvd. Take the first right onto Wellmore Drive and you will arrive.
Directions from Fort Mill, SC:
From Fort Mill, navigate to SC-160 W and continue on until you reach Stonecrest Blvd. Turn left onto Stonecrest Blvd and then take the first right onto Wellmore Drive and you will arrive.